La settima stagione di New Girl si sta per concludere e molto presto saluteremo i nostri amati coinquilini.
Questa sera negli Stati Uniti andranno in onda gli ultimi due episodi finali di New Girl, la 7×7 e la 7×8, dando così al pubblico il lieto finale tanto aspettato. L'appuntamento finale con New Girl durerà un'ora e ci saranno ben due episodi: inizierà con l'episodio The Curse of Pirate Bride, La maledizione della sposa pirata, e a seguire l'episodio finale Engram Pattersky.
New Girl 7×07 "The Curse of Pirate Bride"
Vedremo con gioia i nostri amati protagonisti, Jess e Nick andare all'altare insieme, ma in una maniera inconsueta. In questo primo episodio si avrà come guest star Ralph Ahn, l'amico silenzioso Pal Tran (quello della piscina -insomma- scena indimenticabile), che come vediamo nel promo sarà quello a cui Nick chiederà dei consigli prima del matrimonio. Mentre dall'altra parte, Winston e Schmidt avranno delle divergenze con il padre di Jess (Rob Reiner).
New Girl 7×08 "Engram Pattersky"
L'episodio finale di New Girl dal titolo Engram Pattersky, ci permetterà di salutare i nostri amati coinquilini del loft 4D, così come saluteranno anche loro l'appartamento. Jess e Nick, infatti, annunciano di dover lasciare la loro casa, ma prima di questo, Jess li obbligherà a fare un "tuffo nel passato" in cui rivivremo dolci e tristi ricordi contemporaneamente.
Siete pronti a dare l'addio a Jess, Nick, Schmidt, Cece, Winston e Ally? Io così, con tanto di turtle face.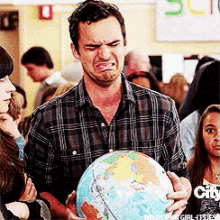 Ti potrebbero interessare
New Girl: Zooey Deschanel e il cast parlano del finale della serie
Per altre news su altre serie tv, continua a seguirci sulle pagine Facebook Talky Series, Secret Life of a Telefilm Addicted  e Nick e Jess New Girl Italy.
Commenti
commenti